Evolve Pop Culture Expo – Perth 2016
Evolve 2016 took place over a huge weekend at the
HBF Stadium Centre
, in Perth WA on the September 3-4, 2016.
The event played host for stars and celebrities of various mediums, Exhibitors, Artists, prop makers and suppliers. The event hosted a cosplay competition in which the declared winner would win a trip to Southeast Asia's Premier Game Convention, Gamestart 2016 in which will take place in 7 – 9 October, 2016!
Highlight appearances included an amazing cosplayer from Brisbane, Katyuska Moonfox, Costume Builder Dadpool Cosplay, Epic Armoury Australian ambassador AstroKerrie, amazing artist Hans Bruechle (Handbrake), The Dance Collective and many more!
A selfie including the gorgeous Katyuska Moonfox, LARPing ambassador AstroKerrie, and myself.
The Cosplay scene here has been constantly improving over the years and this year was unsurprisingly, a riot of dazzling costume designs and photography opportunities, and a jaw-dropping spectacle of creative ingenuity.
I found it strange that the three Australian guests had a booth to sell prints and meet the community, while the Singaporean cosplayers who flew over did not. If you look onto their website, you will notice there is no mention of Maria Tachi Cosplay, Joey of Neo Tokyo Project or Evieeep Cosplay. Not only were the three were judges, Joey was also the representative of GameStart Asia!
Perth's most awesome costume builder and cosplay guest at the event, Dadpool Cosplay!
Gaming competitions included Super Smash Bros. and the new Street Fighter V! Winner walked away with the exclusive Ken Masters statue by
Kinetiquettes
and a trip to Singapore to compete in the South East Asia Major at
GameStart Asia 2016
.
These events were supported by The Glitch, Pixel Expo and OzHadou Perth. Prizes sponsored by HandBrake Surf & Skate, Nexus Concept Studio, GameStart Asia and the Evolve Perth Group.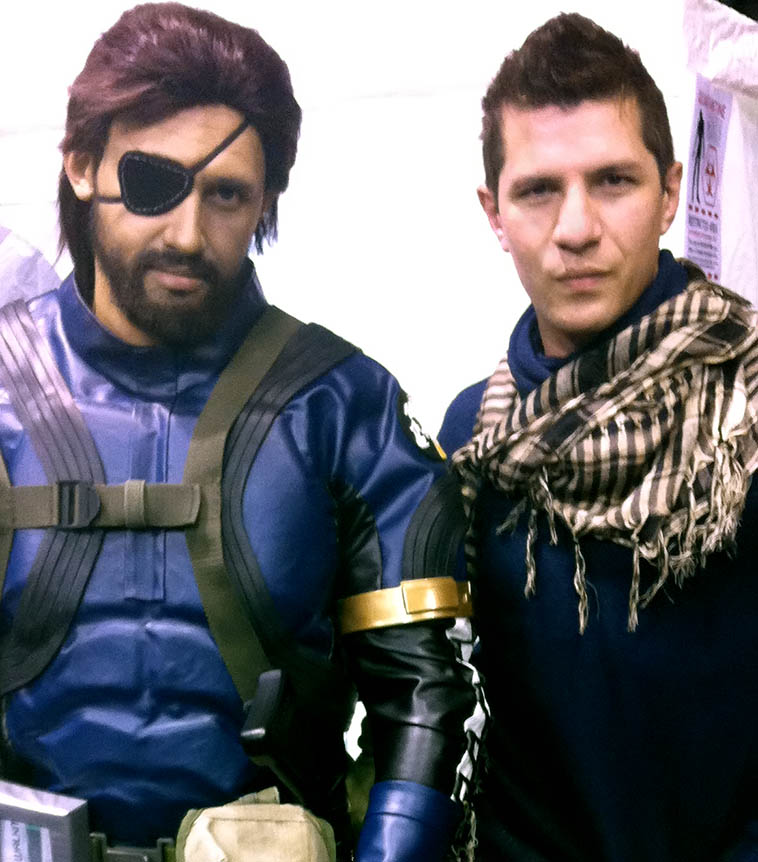 Myself with Alex of
AMP Cosplay
. Alex, dressed as Venom Snake (Metal Gear Solid 5) went on to win Cosplay competition in the Individuals category.
Lady Jaded
came into the competition as Queen Ravenna (Snow White and the Huntsman) that took out 1st place!
My Experience
My Photo of Dadpool Cosplay used heavily for the Evolve's marketing. To be clear, Evolve Pop Culture Expo did not at any point ask for my permission – which is a big no-no.
A misleading concept among cosplayers is that they are NOT co-authors of photography. The people at fault are those who made the decision to not contact the photographers and still proceed with the event – NOT THE COSPLAYERS.
Please take note my photos are available for SELF promotion, print, and SELF publication.
One of many banners that used my Deadpool photograph without the consent of the photographer!
On the Saturday, I decided to buy my ticket at the door and noticed straight away the difference of online and door sale prices were huge.
"Okay,"
I thought,
"I'll learn or order online next time."
At first glance, size of the convention appeared much smaller, given I had just paid an entry fee that is comparable to larger Pop Culture Conventions across Australia such as Oz Comic Con and Supanova. While I notice the Con appears to be focused on local businesses, stores and services, as opposed to businesses flying over from across Australia to be there that weekend.
The price tag shows almost a $20 increase in it's door price, in comparison to it's online ticket price. Something not seen in larger Pop Culture Expos like Oz Comic Con or Supanova!
As I entered the main hall, Security stopped me and asked to inspect my bag. I told them it's camera gear, which strangely brought up some red flags. They looked at one of my lenses in particular – my 70-300mm lens, and got told I am not allowed to bring that any lens beyond 200mm is prohibited. Asking why, I was shown a document that didn't substantiate his claim. "No professional DSLRs, iPads or recording devices allowed." Just wanting to get in, I left my gear in the reception area for much of the day, and collected it to shoot outside later.
On Sunday, I had the opportunity to meet Nexus Concept Studio in person, who had collaborated with RHD_Armoury and Cosplay. It was a quiet day, and they welcomed me to shoot in the extra space they rented. Setting up my three lights and smoke machine, I borrow a friend when suddenly I get grabbed on the shoulder quite aggressively. It was security, and I get told I am not allowed to use the smoke machine within the vicinity. I mention that the stage performers and wrestlers are using smoke as well, but insubstantially they tell me it's not allowed.
I unplug the smoke machine at their request, but did not packing it away, and I notice five metres away that one security guard has brought two others beside him staring at me. This made me feel uncomfortable, and finally I collected my belongings and carried on photographing outside.
While I believe Evolve Pop Culture Expo was great for local businesses to build their brand awareness, there are clearly alot of mistakes for the expo to learn from.
They offered an entertaining weekend, but with scheduling that left Cosplay guests and panelists confused, strict security, this weekend was disappointingly far from a professionally planned and organized experience.
I would like to give a special thank you to Nexus Concept Studio and RHD Armoury for lending me the space to shoot against the black backdrop.
For more information on Evolve 2016, visit their website at http://www.evolveperth.com
Hours after this post was made in the blog, this was Evolve's response.
A copy of the banner of the event. Notice there is NO mention of myself or any of the photographers as mentioned in his comments.
Update:
I'm leaving a screenshot to express my disgust since commercial use of photographs seems to be perceived as an OK thing to do for profitable events.
After publishing my blog earlier that day, Perry Lee (Evolve's Event Co-ordinator) subsequently contacted me, claiming that cosplayers are assumed to "own the rights", and any print media was credited with my name as it provided good exposure 'even though we didn't need to'.
Attached is a copy of the banner that contradicts this, and I am left with the impression Evolve Perth Group didn't feel like paying for REAL photographers.
This is not simply a "misunderstanding", but just pure laziness and extremely unprofessional event management, followed with a poor attitude in their response.
The photographer retains copyright unless a paid fee and releases are done.
Anyway, "Lessons made and point taken" — Oh wait, that was Perry's line!
… No apology, no responsibility taken.
Evolve Perth Photo Gallery 2016
Please feel welcome to share these on Social Media and tag me as Collin Kerr Photography on Facebook, @CollinKerrPhotography on Instagram and @ThatsSoCollin on Twitter!
Take note these photos are available for SELF promotion, portfolio, and SELF publication ONLY! For any Commercial Usage, please use the contact page!
Related posts you may be interested in: