Supanova Comic Con & Gaming Expo – Perth 2019
In June 28, 29 and 30, the event took place in Perth Convention and Entertainment Centre in Perth, Western Australia.
The three-day event was a celebration of all things entertainment – TV shows, movies, comics, cartoons and video games to name a few, alongside the Cosplay Competition presented by Madman Entertainment.
Elijah Wood (Lord of the Rings, Sin City) was headlined as the main draw of the event. Other highlight appearances included Anson Mount (Star Trek: Discovery, Inhumans), Stephen Amell (Oliver Queen / Green Arrow in Arrow) and Robbie Amell (Arrowverse, The Tomorrow People), David Ramsey and Italia Ricci (Super Girl, Designated Survivor).
Supanova also played host to the classics with the wonderful personalities of Barbara Eden, Barbara Feldon (Get Smart) and Dawn Wells (Dream of Jeannie)!
And many more celebrities across movies, TV series, Video Games, comic books were in attendance as well.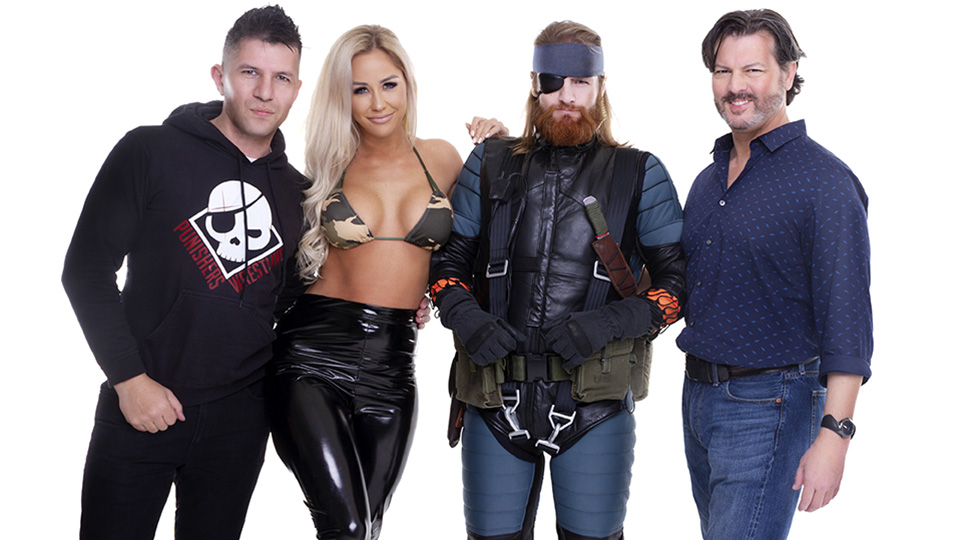 Myself with Model Tamika Rawson, Armoured Heaven's Director Brad Towner and Voice Actor/Screen Writer David Hayter in the photo studio.
METAL GEAR SOLID
Metal Gear fans were absolutely spoiled by the Premiere Gel Blaster company, Armoured Heaven. With Q&A panels from voice actors David Hayter, Paul Eiding and MGS singer Donna Burke, plus an exclusive performance from the MGS singer during Supanova's Cosplay Competition!
Also in attendance was Tamika Rawson, who has been featured as a cardboard box model in Metal Gear Solid entries 'MGS3: Snake Eater' and 'MGS5: The Phantom Pain'.
On the Friday evening, I had the opportunity to bring Voice Actor and Screen Writer, David Hayter into the photo studio along with Armoured Heavens director, Brad Towner. He cosplayed alongside him as MGS3's main character, Naked Snake.
Armoured Heaven's Director, Brad Towner, standing back to back with David Hayter, the iconic Voice actor of Solid Snake and Big Boss!
Tamika, along with David Hayter. Recreating the Magneto and Mystique pose from the original X-men movie. 
Later, we attended the Metal Gear Panel, which was in attendance of Paul Eiding and David Hayter. And they went into detail about their career paths. 
Paul Eiding drew much of theatre background into voice acting, and has had lent his voice many animated shows, video games and radio.
David Hayter shared much of his experience with Metal Gear Solid, being a writer and director in Hollywood.
Soon after, we all went out for dinner together.
Taken the photoshoot I mentioned.
At Supanova's guest Panel, watching Metal Gear Solid's voice actors, Paul Eiding, and David Hayter!
COSPLAY HQ PHOTO WALL
Supanova played host to Cosplay HQ – your one stop shop for all things Cosplay!
Cosplay HQ played host to phenomenal cosplay guests, Cowbutt Crunchies Cosplay, and the incredible talent displayed at Supanova's Odyssey Cosplay Competitions!
A dedicated photowall ran over the weekend with Resident Photographer Steamkittens visiting from Adelaide, alongside with featured photographers Melbourne-based Blackscarf Cosplay & Photography and myself, Collin Kerr. It was a busy and amazing weekend that ran on the vibrant energy of cosplayers looking forward to have their photos taken!
The Cosplay HQ Repair Station had all the tools and cosplay advice to help you out, and even carry out any quick cosplay repairs.
Myself with Melbourne-based, cosplay ambassador and judge, TJ Cosplay!
Cosplay Odyssey
The Supanova Cosplay Odyssey is Supanova's own advanced national cosplay competition, where contestants have the chance to share in $15,000 worth of prizes. The Odyssey was held on the Sunday of each of the six Supanova events around the country, in search of each city's Cosplay Hero.
Aside from winning a phenomenal cash prize, each of the Cosplay Heroes had a chance to be named the final overall winner – Supanova's Odyssey Hero. They will then be able to continue their cosplay journey all the way to the United States for Dragon Con 2019.
The winner was announced by Ardella Cosplay and our outgoing Cosplay Ambassadors TJ Cosplay and ANDYCAMcosplay
Winner of the Supanova Cosplay Odyssey Hero competition, Lilla Bee Cosplay. Photo courtesy of Steamkittens!
The winner was announced on July 7, 2019 via Facebook live. Lilla Bee Cosplay was announced as Supanova's Odyssey with her entry "Drilltusk Tetsucabra" from Monster Hunter.
Lilla Bee Cosplay's techniques and textures used at a high standard and were consistent in their execution.
Lilla Bee made her own wig from scratch. Made her own base using a wig cap, which was completely made from scratch using yarn. When compared to reference material, it was seen as a really good choice as it was accurate to her character. It also was really neatly organized where most synthetic wigs have flyaways.
The Sword had a bunch of LED's and electronics, and she had one of the spikes of her sword housing the battery pack, which did not affect the design of the sword. It was practical in design that allowed Lilla Bee to cleverly change batteries when necessary. Her Katana had a unique acrylic paint, and traditional Japanase Katana wrapping to enhance the design.
Congratulations, Lilla Bee. Your win is well deserved!
Working the Photo Wall, based in Cosplay HQ! 
Selfie with Top-tier Cosplay Photographer who hails from Adelaide, Steamkittens!
The Cosplay scene in Perth has been constantly improving over the years and this year was unsurprisingly, a riot of dazzling costume designs and photography opportunities, and a jaw-dropping spectacle of creative ingenuity.
I would like to give a special thank you to the people of Supanova's Cosplay HQ for having me on board as your photographer on the mini pop-up photo wall. You guys were amazing company!
Armoured Heaven's booth with the Metal Gear Solid's Voice Actors, Paul Eiding and David Hayter, Singer Donna Burke, Cardboard Box Girl, Tamika Rawson, AH Director Brad Towner and their Supanova handlers.
Perth Supanova was an amazing experience with an entire weekend's worth of fun to be had, but for now, Perth will have to wait until 2020.
Want more in 2019? Adelaide Supanova will be held November 1-3th November at the Adelaide Showgrounds. And Brisbane Supanova will be held 8-10th at the Brisbane Convention and Exhibition Centre.
For more information, news and announcements, visit the Supanova Comic Con & Gaming Expo website.
PerthNova Photo Gallery 2019
Please feel welcome to share these on Social Media and tag me as Collin Kerr Photography on Facebook, @CollinKerrPhotography on Instagram and @ThatsSoCollin on Twitter!
Take note these photos are available for SELF promotion, portfolio, and SELF publication ONLY! For any Commercial Usage, please use the contact page!
Related posts you may be interested in: