Supanova Comic Con & Gaming Expo – GC 2018
In April 27, 28 and 29, the event took place in
Gold Coast Convention and Entertainment Centre
in Gold Coast, Queensland.
The three-day event was a celebration of all things entertainment – TV shows, movies, comics, cartoons and video games to name a few, alongside the Cosplay Competition presented by Madman Entertainment.
Peter Capaldi and John Barrowman (Torchwood, Doctor Who) were the main draw cards at the event. Other highlight appearances included Tom Welling (Smallville, Lucifer), Pearl Mackie (Dr Who), Alan Tudyk (Rogue One, Serenity, Firefly), Elizabeth Henstridge (Agents of SHIELD), Michael Rosenbaum (Smallville, Guardians of the Galaxy Vol.2), Linsey Morgan (The 100, Bob Morley, Black Dynamite, Mortal Kombat: Legacy), Walter Jones (Might Morphin' Power Rangers), and many more!
Professional photo with Michael Jai White, American actor and martial artist who has appeared in numerous films and television series including Spawn, Blood and Bone, Black Dynamite and many more!
GOLD COAST SUPERHERO WEEKEND
The weekend included the Supanova Comic Con & Gaming, Gold Coast Film Festival, NightQuarter Zombie Walk and a ton of action packed events for the young and young at heart.
Featuring the Supanova Superhero Parade, movie screenings as part of the Gold Coast Film Festival, meet and greets with your favourite superheroes, alongside with workshops.
The Supanova Superhero Parade literally stopped traffic on April 29 from 9am, and bring together thousands of people for a celebration like no other.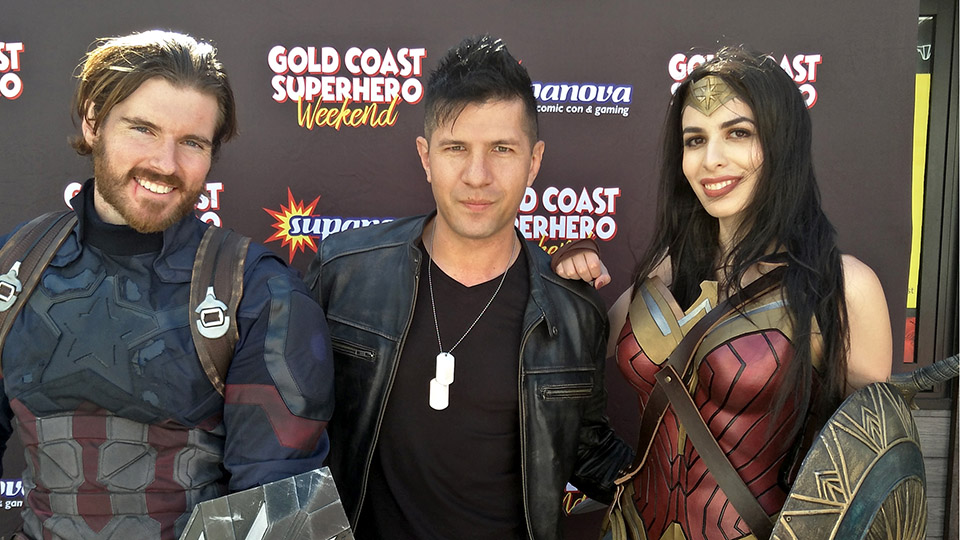 Myself with Cosplay Chris and Phoenixraii. They were on board as the 2018 GCSW Ambassadors! Chris well documented cosplay build in a YouTube series called 'The Captain Without A Country'.
Armoured Heaven Firearm Charge Fund
For those who don't know, Armoured Heaven has been the premiere toy gun seller in Australia, and require your help. They have worked closely with Police in the years they have been in business. That is until March 27th 2017 when Police issued a search warrant on AH and seized all product stock – deeming them to be firearms.
You can donate to the fighting cause and share the GoFundMe page so more people can see the atrocious acts our police and government are doing to respectable small business owners.
This Fund will benefit the Legal Fees required into fighting what is to be expected an expensive court case with hiring Lawyers, Barristers and Expert Witnesses. Please support their battle by donating in their GoFundMe page.
Gold Coast Supanova was a total washout for Toy Gun sellers Armoured Heaven and Taidi Toy Guns. Hurdles have left them with nothing available to sell for the duration of the weekend.
The Cosplay scene in Gold Coast has been constantly improving over the years and this year was unsurprisingly, a riot of dazzling costume designs and photography opportunities, and a jaw-dropping spectacle of creative ingenuity.
I would like to give a special thank you to Armoured Heaven and Taidi Toy Guns for lending me the space to shoot against the black partition board and utilise as a mini pop-up studio. You guys were amazing company!
With Will Wong (Aka Ameno Kitarou), Costumer and workshop presenter, who recently represented Australia in 2018's world stage of C2E2 Crown Championships of Cosplay.
Gold Coast Supanova
was an amazing experience with an entire weekend's worth of fun to be had, but for now, Gold Coast will have to wait until 2018.
Want more in 2018? Sydney Supanova will be held June 15-17th at the Sydney Showgrounds Olympic Park. Perth Supanova on June 22-24th at the Perth Convention and Exhibition Centre. Adelaide Supanova will be held November 2-4th November at the Adelaide Showgrounds. And Brisbane Supanova will be held 9-11th at the Brisbane Convention and Exhibition Centre.
For more information, news and announcements, visit the Supanova Comic Con & Gaming Expo website.
GC Supanova Photo Gallery 2018
Please feel welcome to share these on Social Media and tag me as Collin Kerr Photography on Facebook, @CollinKerrPhotography on Instagram and @ThatsSoCollin on Twitter!
Take note these photos are available for SELF promotion, portfolio, and SELF publication ONLY! For any Commercial Usage, please use the contact page!
Related posts you may be interested in: