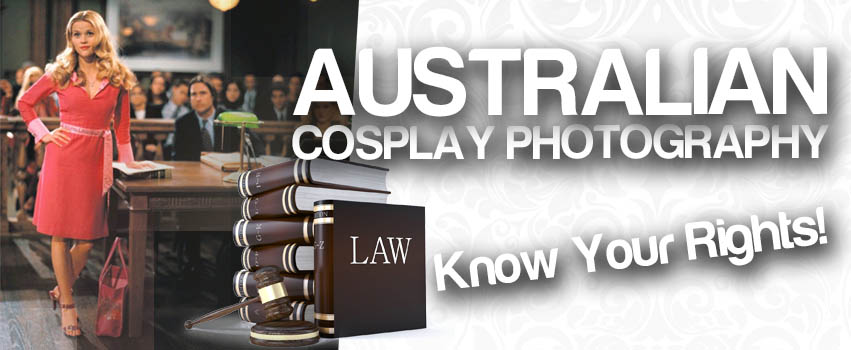 Australian Cosplay Photography – Know your rights!
Two things I should point out.
One – Australian laws vary between state to state, and information stated here may be outdated from the time I have written this.
Two – I am not a lawyer, and any legal advice should really be given by a practicing lawyer if you have legal issues with your work – NOT SOME SOCIAL JUSTICE KEYBOARD WARRIOR!
However, I post about experiences I have encountered in the past and draw on that.
A PHOTOGRAPHERS RIGHT
In the majority of cases, when the shutter button is clicked, the photographer immediately owns copyright to that image.
The only way this rule would be exempted is if the photographer is into a "work-for-hire", or what conventions grant you a "Media Release" . What this basically means is when a photographer is hired as an "employee" to take photographs for said company, and in the case for Media Release, in exchange for shooting at their event, you are given a free pass to the event and in exchange you hand over all recorded media to the organisers – possibly straight from the camera.
What is Copyright?
cop·y·right
noun
1: the exclusive legal right, given to an originator or an assignee to print, publish, perform, film, or record literary, artistic, or musical material, and to authorize others to do the same.
Copyright law is of little assistance in preventing unauthorised use of your image because the person who owns the copyright in an image will generally be the person that created it (for example, the photographer) rather than the person who appears in it.
COPYRIGHT ACT 1968 – SECT 36
COPYRIGHT ACT 1968 – SECT 36
(1A) In determining, for the purposes of subsection (1), whether or not a person has authorised the doing in Australia of any act comprised in the copyright in a work, without the licence of the owner of the copyright, the matters that must be taken into account include the following:
(a) the extent (if any) of the person's power to prevent the doing of the act concerned;
(b) the nature of any relationship existing between the person and the person who did the act concerned;
(c) whether the person took any reasonable steps to prevent or avoid the doing of the act, including whether the person complied with any relevant industry codes of practice.
A COSPLAYERS RIGHT
Cosplayers: What can you do to stop someone using your image in a photograph, film or video without your permission? With the introduction of new technologies such as digital video cameras and computerised enhancement, your image (or a distorted version of it) could appear on the internet and be accessed by millions of people without your knowledge or permission.
Australia has no specific law aimed at preventing the unauthorised use of your image. However, there are circumstances in which you may have a legal remedy in relation to how your image in used. You, as a model and cosplayer, have a right to something called "Australian Consumer Law".
Australian Consumer Law
The areas of law in Australia which may be used to try and stop the unauthorised use of your image include:
Defamation;
The Australian Consumer Law (Schedule 2 of the Competition and Consumer Act 2010 (Cth)) (ACL) and State Fair Trading Acts where applicable; and
The law of passing off.
Copyright law is of little assistance in preventing unauthorised use of your image because the person who owns the copyright in an image will generally be the person that created it (for example the photographer) rather than the person who appears in it.
This right to publicity is rather simple; A photographer has to be very careful about COMMERCIALLY selling images of a cosplayer/model since he does NOT have right to do so without the consent of the cosplayer or model in in the image. This goes BOTH ways. The cosplayer CANNOT do it without written consent of the photographer either.
Editorial has it's own set of rules vs Commercial Purpose.
Editorial Use.
Editorial Use means that an image is used as a descriptive visual reference – documentation of a specific person, place, thing or occurrence.
Commercial Purpose.
Commercial purposes is to use the image to endorse a product, service or event. This advertising would come from a substantial amount of documented traffic.
Think of it this way – is the photograph being used to endorse or promote a product, service or event? That is commercial.
I take a photograph of you and put them in magazines all day for a non-commercial use (think ad-space.. vs a story space in a newspaper or magazine).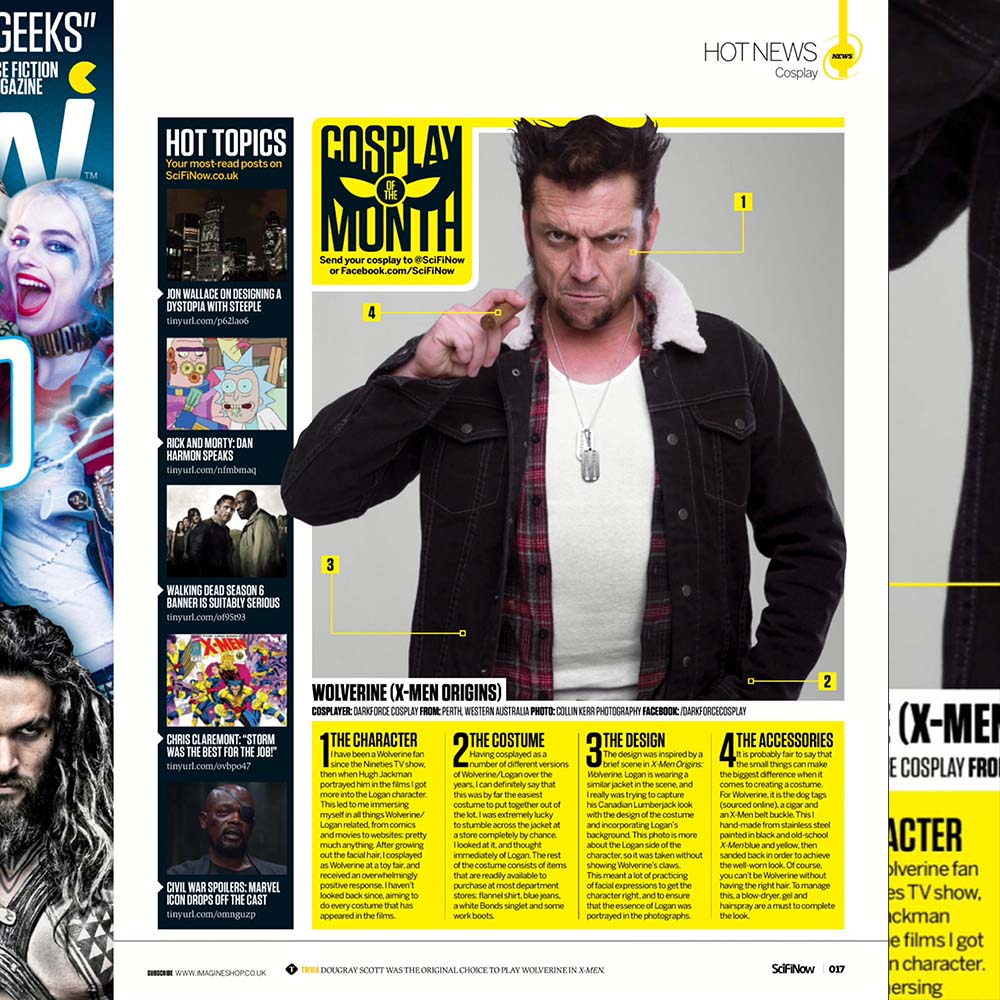 Editorial Use of Cosplay Photograph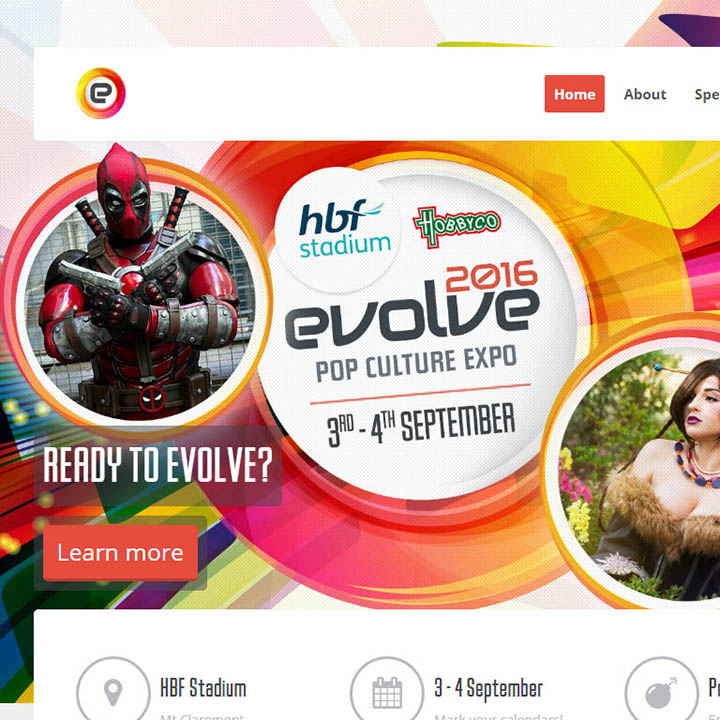 Commercial Use of Cosplay Photograph
Pictured:
Excerpt taken Evolve Pop Culture Expo 2016
Model:
Dadpool Cosplay
Photo Sharing & Social Media
If you're in the cosplay community or industry, there is an extremely high chance you are on social media platform – Facebook, Twitter, Instagram, Youtube, Tumblr just to name a few. It's a great way to make a name for yourself and to share your passion of cosplay – sharing through tutorials, progress, stories and to connect with people.
There is one thing you need to consider when putting yourself out there – sharing Personal Information.
Think before you share.  Sharing personal information online can have serious consequences for yourself and for those around you.  It is also difficult to remove information from the internet once it has been shared.  Think very carefully about who you are sharing information with, and what they plan on doing with it.  If you don't know what to do, always ask for advice form an adult you trust before sharing personal information.
Friend or Foe? Remember that each time you accept a new friend or follower, you're letting that person into your private circle – it's best to avoid friend requests from people you don't know or don't trust.
Creative Commons Licence
Creative Commons Licence
Photos that are copyrighted but the photographer has put provisions in their use. A creative commons licence might stipulate, for example, that an image can be used as long it isn't modified in any way.
How can I use CC content?
When you find a work that has been released under a Creative Commons licence, you are always free to share, copy, and redistribute it in any medium or format.
To help you understand your rights to use a licensed work go to Know Your Rights: Understanding CC Licences
Conventions, Locations & Public space.
When we are in a public place, I can see you and you can see me, there is nothing stopping me from taking your picture, with the exception of some councils imposing permits on people taking photographs in well known locations, particularly if the photographs are for a commercial purpose.
While conventions highly encourage cosplay photography and sharing on social media, the Convention Organizers have the ability to limit photo taking, and many of these rules apply in Stage and Performance theatres (Guest Panels, Videogame hosting, Dance Performances, and competitions). There are specifics and they vary between each convention.
The subjects in the camera, or the police can not ask you to delete a photograph, as this is considered to be destruction of property in some forms of assault. This is labelled to be Malicious Damage to property.
If the argument becomes heated, you can go to the police station and you will very likely be in the right.
Malicious Damage of Property
Crimes Act 1900 – Sect 195
A person who intentionally or recklessly destroys or damages property belonging to another, or that person and another, is liable.
Just because you "can" doesn't mean you "should". Because it's legal, doesn't make it moral – if someone has the reasonably expectation of privacy, then they should have it. Many conventions have an
Anti-Harassment Policy
all con-goers abide by.
Even if you want to take someones photograph, at least ask for permission first, and respect that person's right to say no.
Cosplay Is NOT Consent
"Cosplay is NOT Consent" aims to educate the community by using the experiences of cosplayers, and convention staff to help put an end to unwanted harassment of convention attendees. "Cosplay Is Not Consent" works with convention owners to help bring comfort and safety back to fan events all around the world.
For more information, visit http://cosplayisnotconsent.tumblr.com/
The Sum Up and How to prevent Disputes
In short, please talk to your photographers and other creatives involved.
Money can divide cosplayers and photographers in a community that is about being inclusive, not exclusivity.
When you are planning and organizing a shoot, make it clear exactly what you are shooting, who are the creative parties in the shoot, and what the purpose shoot is for. Communication is the best way to keep everyone informed, and to avoid any confusion later down the line.
This information was last reviewed on 7 May, 2016. The factsheet provides information about the law in Australia. It does not provide legal advice. If you need advice, speak to a practicing lawyer in your state in the creative arts.
Related posts you may be interested in: