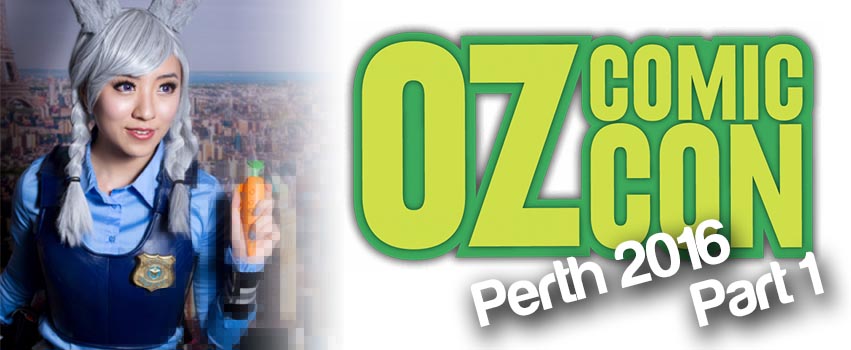 Oz Comic Con Perth 2016 – Saturday
My banner I use to help advertise the event on social media – including Facebook and Instagram.
Pictured here is Stella Chuu, who is cosplaying as Judy Hopps from Zootopia.
With the best of everything across pop-culture, Oz Comic-Con brought over exclusive panels, celebrity guests, comics and memorabilia galore back to Perth. With highlights including appearances by Xena: Warrior Princess stars Lucy Lawless, Hudson Leick and Karl Urban, Teen Wolf favourites Max Carver, Cody Christian and Jim Beaver and Rachel Miner from Supernatural.
For cosplayers, talent included Perth Cosplay Celebrity, Lady Jaded, an Australian Creative who has lent her skills around the world as a judge, panelist, and cosplay ambassador, Variable , and internationally renowned cosplayer and burlesque performer, Stella Chuu, who flew all the way from America to join us!
Oz Comic-Con has all of your celebrity bucket list items covered.
My advert for the Oz Comic Con Perth Cosplay Central!
I had the opportunity to come on board at the Oz Comic Con Photo Wall for two days alongside other guest photographers – Redscarf Photography, Reagan Smash Productions, Kagu Photography, FilmCraft, and Vespa Photography.
Adelaide resident and photographic sensation, Steamkittens was scheduled as well, but due to health concerns, he regretfully had to withdraw.
It was a pleasure to have taken your photograph and to be a part of your weekend.
Below is the gallery of photos taken from Saturday, April 2 2016. Photos from Sunday can be found in this link here!
Oz Comic Con Perth Photo Gallery 2016
Please feel welcome to share these on Social Media and tag me as Collin Kerr Photography on Facebook, or @ThatsSoCollin on Instagram and Twitter!
Take note these photos are available for SELF promotion, portfolio, and SELF publication ONLY! For any Commercial Usage, please use the contact page!
Related posts you may be interested in: